Crabfeasts Gone Wild, Volume 1
by Reggie Dinkins, Jr.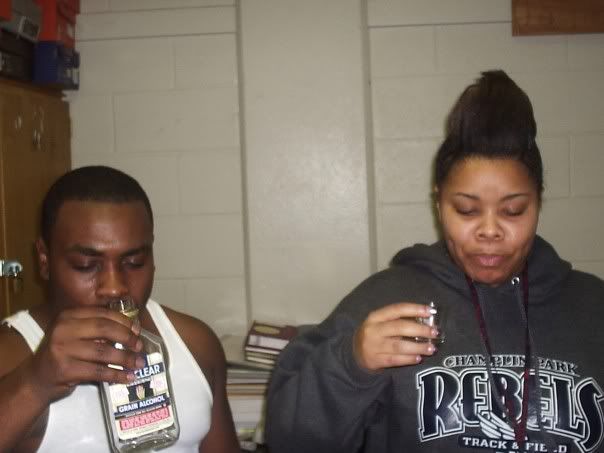 Crabfeasts Gone Wild is part of the newest DVD collection being brought to you by the Stink Johnson Entertainment Group in association with Millionaires in Slippers Productions. This spectacular DVD set just dives right into summertime with an all access look at cookouts & crabfeasts and how they get down, dirty, and flat out riggity raw. The first video of your box set features the George-Mixon Family Reunion & Crabfeast of 2004.
The George-Mixon Family Reunion & Crabfeast is a family reunion, and really just a place for singles and halfway single people to hookup. Gangsta Mike Ritchie and Keneesha Mixon are shown above when the hooking up really starts to go down, after most the grandmothers have gone in. Gangsta Mike is neither a George or a Mixon, but he came with his good buddy James George who is both a Mixon and a George (despite his dual family ties this doesn't stop him from possible 3rd cousin-removed hookups, as you will see in this feature's 28th minute.) The two are seen playing a game of Russian Bobcat, basically you take shots and make that cat-hisssing noise for a minute straight.
Things got tricky once Keneesha flipped that bang up in the front of her head. There were naked charades, and the 7-member game of hide-n-go-seek in Wanda's big basement. Only removed cousins were remaining at this point, oh and Regine & Darrell were there, but they are swingers, and Darrell's only related to the George side through his 1st marriage. It went down that day, and the basement smelled to prove it. This first collection also includes the cd of the soundtrack featuring Rare Essence's
"The Freaks Come Out at Night",
and
"Don't Look Back"
by The Group Duquette. I have put the lyrics below for your sing--along pleasure.
Don't look back,
just give it here
I got something to say, but I only want your ear,
girl stay right there
I'm just gonna lean back in this chair
I just wanna tell you
You got some nappy back hair

Don't look back
just give it here, give it here
I just want to show you
that something's in the air
but first we getting in the shower
I wanna make you moan and wail
Got to wash you off baby
because your back ear smells like your tail
This soundtrack can be found at
http://www.thed-siderecords.com