"ANNOUNCEMENT OF MATRIMONY"
By Salvador Gabor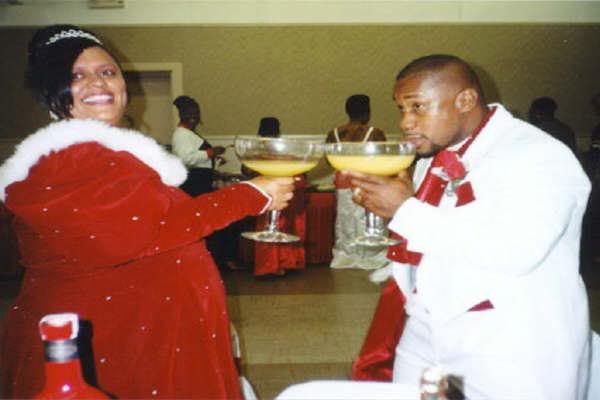 MAXINE & "BIG" CRAIG MCINTYRE
1814 Days since we got Married
(Yes WE are a little late, bare with us)

ABOUT USAbout Maxine
I am a 10-year U.S. Postal Service worker also with experience in Part-Time Nocturnal Security in Government Buildings. My knack for overseeing and observing makes me a wonderful "catch" in the eyes of "Big" Craig. Born in Detroit, my favorite past-times are doing hair and "stepping". A social/casual drinker, I do tend to "buzz" a lil more during the holidays. Ya know, a sister can act bad sometimes. My favorite colors are Red & White. Mainly because of my strong love for the Lord. AND all them Strawberry Shortcakes I be eating. I need to get my tail in the gym for real for real but, that's neither here nor there. I am not working to get my CDL licenses so I can drive these mail trucks. Hopefully with that I can advance my Postal career and do a lil traveling
About "Big" Craig
"Big" Craig. Um Um Ummmm. What can I say. I love me some "Big" Craig. Craigery Boulware McIntyre is the love of MY life. He is handsome inside and out. "Big" Craig grew up on the Southside of Newport News, VA. He soon moved to Mo-Town to pursue a career in Flag Football. He had heard of many tournaments going on in the Mid-West and even heard that the prize money was alot larger here than on the East Coast. After a major pinky finger infection, he was sidelined permanently and has picked up a job as a Courier. AND OOOH do he look good in his tights. His favorite Football team is the Atlanta Falcons and he collects WWE Wrestling figurines.
How We Met
We were in a Golden Corral on a Sunday after service when I layed mine eyes on "Big" Craig. I can remember, it was 1988. He had his lil Troop Sweatsuit on and he was standing in front of the Roast Beef line. He was a gentlemen and let me in front of him. Well I took 17 slices of Roast Beef so he had to wait for another bulk to come out. By the time he got his beef, I had ate 10 of my slices and had found an extra chair for "Big" Craig to sit with me and my family. I didn't think he'd sit down with us but, he did. And he met me at the same time he met my family. From that point on, Golden Corral
twice
on Sundays became our tradition.
The Proposal
From the end of 1988 to 2000, we lived together. he moved in with me, my mother, my aunt, my two unemployed uncles and my grandparents. I had just started working two jobs in 2000. (That's where my experience in Part-Time Nocturnal Security in Government Buildings came in). I was tired. So was "Big" Craig. He was tired of coming home with red thighs from them tights and I was tired of signing all them people in. And plus "Big Momma" was pressing us to leave. So one day "Big" Craig said the most romantic thing I had ever heard. After taking a swig of his "Cisco" he looked at me, All wet-mouthed and said "Baby we aint getting no younger, lets do this..............plus your uncle dont keep the bathroom clean no way". He reached in his pocket and gave me a ring. I cried. Maybe it was the combination of the ring AND my "buzz" but I cried like a wolf in the night. I was SO happy to be engaged to "Big Craig"
The Wedding
We gotta few pics from the wedding but "Big" Craig aint picked em up yet from the drug store. He waiting on his friend Steve to be promoted to Night Manager so he can get them out on discount. But we had a nice wedding.
The Wedding PartyMAXINE's ATTENDANTS
Shadonna Williams, Maid of Honor - Best Friend
Neisha Jenkins, Bridesmaid - Cousin
Tatalana Stevenson, Bridesmaid - Sister
Shantala Ricks, Bridesmaid - Friend
Rhonda "Stank" Richards, Bridesmaid - Co-worker (on the part-time job)
Rekeeda Johnson, Bridesmaids - Cousin
"BIG" CRAIG's ATTENDANTS
Rick Taylor, Best Man - Best Friend & Supervisor
Donte Wiggims, Groomsman - Friend
Jaquan Jacobs, Groomsman (Pending a Criminal Case) - Lil Cousin
Donald Cribbs, Groomsman - Friend
Leroy Sikes, Groomsman - Flag Football Teammate
Jason McAfee, Groomsman - Maxine's Cousin
Dontrell Wiggims, Interim Groomsman - Brother of Donte
Our Registries

We are registered at the following places

Golden Corral

Cracker Barrel

&

G.C Murphy Low Income Department Stores


Please Sign Our Guestbook

For comments, we can be reached at (301) 455-3534


"If God is Against you, Who gonna be wit you"