A Pioneer in Black Love
by Reggie Dinkins, Jr.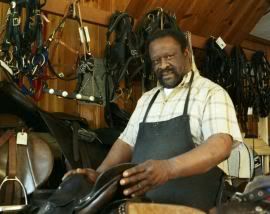 Curtis Little is a man of many talents, and is most often recognized for his efforts to put a little bass in the tune of Black Love. He is a trained carpenter and blacksmith, and is a renown craftsman. He can do anything from creating bedroom dinette sets to shoeing horses and mules. However his crowning achievement is
"Curtis' Little Sweet Spot",
a small sex shop in Memphis, Tennessee.
It is at the Sweet Spot that Curtis specializes in the lost art of big woman seduction. He sells special seasoning oils and lotions to really set the mood when loving a big woman. He has Sunkist Motion Lotion for summertime romance. He has
"Chilli con Queso"
edible panties for those cold winter nights. Curtis also has ties to the 40 + year old Black Dominatrix and Lust Wrestling Society. He is shown above making one of his "Saddles of Love".
Curtis Little loves to love a big woman using two hands and both feet, except if she is Chinese. He had a bad experience 7 years ago in a massage parlor called "Foo Young's Touchings and Rubbs", a massage parlor and restaurant that had their own blend of Memphis Rub BBQ Sauce. The woman of bad record, let a little spicy bbq sauce get in the wrong crease and caused Curtis to be sore for 3 days and 5 nights. He couldnt even enjoy himself at the Cuban Hedonism called "Castro's Gatos."
Curtis' Little Sweet Spot has any and everything from gemini ginger, used for making love to two big sisters at once, to "Butt Bisquick" which softens the ripples many big woman have on their hinds and makes it smooth as room temperature pancake batter. Some of the many favorites include Chicken N Ribs passion lotion, Brown Gravy bikinis, and the Naked Recipe Book which has many ingridents to loving a big rascal or woman. Curtis also has Condoments, for those hot nights after eating some fast food. Everyone can't date or make love to a big woman, but if you come down to Curtis' Little Sweet Spot he can show you how.