Sal's Corner
"That's MY MOMMA"Dont you say nothing bad about my momma. Since we are celebrating BLACK HISTORY MONTH, I wanted to put together a special dedication to the Black mothers. Let's look at some celebrity mothers in our African-American CommunityAnn Iverson (Mother of Allen Iverson)
How can you NOT love Ann Iverson. Anybody THAT willing to be a BAMMA to support their son is good with me. If you gonna be a BAMMA........be one for your oldest son. She is there with him through THICK and THIN. And he makes her proud. Now, yall know I wasnt gonna let her slide. She has some work to do though. A-I got to slow her down on her Jersey intake. She be having on too many baseball caps, wild corner store 6X jerseys and varsity. Miss Ann..........baby....sweetie...you knocking on 50's door. Cut that bamma stuff out babes.
Gloria James (Mother of LeBron James)
She has taken "Baby Momma" to another level with her antics. Her name is "Lil A-I Mother Junior". Once again...Gloria.......you bout to be 45 out here on these streets. Take them jerseys off. We know who you are. If the resemblance dont show us you LeBron mother.....the bling will. You out here giving Miss Ann a run for her money.
Janice Combs (Mother of Sean "Puff Daddy" Combs)
See Janice........you are wrong. JUST wrong. You WAY over 50.....what you doing with Blonde hair? You's an old freak aintcha? I know you are. You gotta watch Black Women over 50 with RED and BLONDE hair. Old freaks....thats what they are. Be done had an orgy with ALL her son's friends. They gonna have a sextape with her and "Da Band" and a special appearance by R. Kelly peeing in her Blood Pressure Medicine Bottle. Keep on putting all that dye in yo' head.....messing around and have a Hot Flash and sweat that coloring out
Tina Knowles (Mother of Beyonce Knowles)
Ole Tina.........you freaky aintcha? I know you is! Your name bout to be "Freak Tina" from NOW ON. Look atchu.....all them crimps in your hair. What you doing with CRIMPS. You need a plain Press N Curl on that head of yours. I know your kind though. Tina is the kind that be the first to have her daughters on birth control. Thats why Beyonce was thick as a horse at 15. I could see Tina and Beyonce going to the family function. A 15-year old MULE walking through the door an everyone saying "Girl Tina done put B on them pills.........child look at her HIPS". Tina steady convincing her mother and sisters that its alright for her daughter to be having sex. She probably was buying the girl short skirts to go find a man.
Afeni Shakur (Mother of Tupac Shakur)
Most mothers have problems with sons when they get to be teenagers. Especially when the father of the child is not present. Kids get to be too "mannish" and smart-acting. And alot of times arguements start over the use of the phone, eating up all the food and coming in late. Afeni and Tupac looked like they argued over WEED. "Tupac.......now I know my bag was laying here". "Momma that was MY bag". "I know my weed Tupac....yours is downstairs. Plus I bought mines straight from Kenny on 33rd and he the only nigga on this side of town with yellow bags. NOW where's my weed".
BONUS: Shaunie O'Neal (WIFE of Shaquille O'Neal)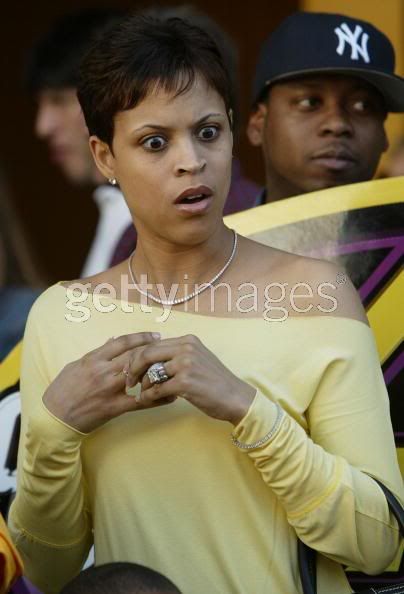 Now she is NOT the MOTHER of Shaq but.....she looks as if she plays the role of his mother from time to time. Ive observed her and of all the athletes' wives........she seems to be the one that don't play! Juanita tried to divorce MJ but then........he smoothed talked her while putting that $200 Million back in his pocket. Cookie found out Magic had A.I.D.S. and still let him stay. Vanessa didnt have to catch Kobe........the Eagle County Sherriff Department catch him. And YET, she kept em. Big Shaunie aint having it. No sir. Let any or all of the above had have happen to Shaq..........light out captain. Slim looks like she dont be playing NO types of games with Shaq. Let him get smart and say "This my money" or something like that........she might slap that grown man. Thats HER money. He just makes it. Shaq aint got no "say-so" in that house. Big Shaun runs the show. Im sure he is awoken by "Nigga get yo' BIG feet off the coffee table" and "Im not washing these rank drawls no mo ok!" all the time.
BLACK MOTHERS.......how can you NOT love em. "Lord Willin, Rome Feelin"