News & Notes
by Reggie Dinkins, Jr.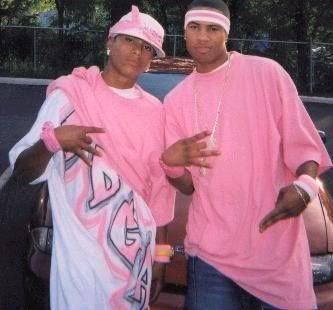 Last week Kings Dominion opened its doors to the gay community. The park went under the name "Queens Dominion" for the day, as many fairies, butchly studs, and unicorn lovers enterred the park. Jabaymond Wayland aka "Gay Jabay Way" and Carl "Stingy" Tompkins were a few of the many pitchers and catchers roaming the park. The park even renamed some of the rides for this queerly day. The "Rebel-Yell" was named the "Ring My Bell", the "Volcano" named "Vulvano", and the "Tower" was renamed Damon. There were scores of people riding the Drop Zone bucknaked, which caused several sprained mammaries, and a few bruised TesCLs. It was absolutely a GAF Gay and Faggy paradise. The opening of the park was delayed on the next day because of the rainbow cleanup, and Old Folks Day would not be ruined like it was 5 years ago, when it was scheduled on the same day as Black College Weekend.
"More News & Notes"
By Salvador Gabor
* Tyjuan Jenkins, Jr. Usher for the Mt. Sinai Baptist Church will not be able to serve this week due to a pulled hamstring he suffered in dress rehearsals for the Upcoming "Live and Let Go" Revival planned for this up coming week. His absence will include communion sunday, which is pivotal in the careers of Jr. Ushers. We will keep you posted on his status for the rest of the Holiday season.
* Alice Watkins was released on bond from the Kings County Jail in Brooklyn, NY after being arrested for smuggling Newport Cigarettes. A native of the Roosevelt Houses Housing Project, she was the person to see if you needed a "loosie", "jack" or "cig" depending upon your slang. She issued a short statement and says she plans on taking her hustle to Harlem and begin selling Contacts and Fake Whoopie Cushions on 145th and Broadway.
* The Washington D.C. Go-Go Instructees "Congo Player" of the Year goes to Michael "Beat Beat" Taylor. "Beat Beat" has a passion for rhythm and will make a beat on any table, wall and or chest that he sees. He taps his desk at work, school and even the kitchen table. His mother, Lucrinda Taylor, thought that young Michael had a chest pain one morning due to him banging on his chest but he was actually putting down a new beat. He has never actually played a congo before but he has basically destroyed all of Lucrinda's tupperware. The Shaw Neighborhood where he resides plans to do a bake sale in efforts to get this boy some congos. Now they have to work on a fundraiser to get them all a pair of earplugs.