"Sporting News"
by Reggie Dinkins, Jr.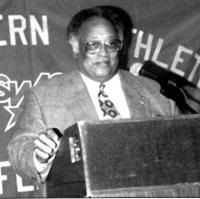 Dr. Alvin Pugh was recently named to the Northeast Tennis Hall of Fame. He is the group's 5th inductee. Pugh was a tennis star at Eastern Senior High School from 1960-1963. He gained citywide acclaim for his portly frame. At 5'7" and 220 pounds he ran and cut on the tennis court, like a big woman chasing flies with a baby-skillet. Pugh honed his skills playing across Independence Ave, late on Saturday nights with his brother Albert. They would play while cars were coming to enhance their focus on the ball, and to increase their agility by dodging cars, and rocks from the 17th Street Gang led by Zeke Phelps. Pugh was a sight to see, that young boy moving and diving all over that court. Although he never quite made it to Wimbeldon, he did play at the Carter Barron every year from 1960 until this past summer. Still deceptively quick in his husky old age, he vows to never stop playing tennis. "I love the game, and everything about it, we need more parents like Richard Williams to expose kids to tennis. Now let me get down from here with my big self and play some tennis."
Leslie "Temper" Watkins recently won his 200th game as head coach of King High School in Detroit. The high school powerhouse has produced numerous black college standouts, and has won many championships over the years with it's relentless pursuit of throwback standouts. "Temper" Watkins is known throughout many cities nationwide for his volatile approach to coaching. He has thrown Gatorade on whooped lineman, tackled distraught quarterbacks searching for an excuse as they came off the field, and has proven himself to be the better man in many full-contact drills. It is nothing for "Temper" to put on the pads and knock some sense into a soft fullback. Never pleased with his teams play, "Temper" paced the sidelines last Tuesday in the teams away game in Decatur, Georgia. His team was winning 55-0 when Darius McCall missed 2 blocks on one play which resulted in a touchdown for his own team. "Temper" had backup quarterback Akil Lewis fire a pass at McCall as he was headed for some Gatorade. As McCall caught the pass he was greeted by a 165 lightning bolt named "Temper" Watkins. When asked later about the fart-drawing hit on McCall, Watkins only said "I'm not going to let imperfection get my pressure up. A pyramid is only made of the strongest stones in Egypt. Do you think I'm going to let the youngest black boys in Detroit keep me from the top. My aunt once told me, Organized heethantry makes perfection. I'll take that to the top."