"Leaving the Neighborhood"
By Gartrelle W. Sexton, Esq.
It is with great sadness that I inform you that Bessie McBride lovingly known throughout the Benning Heights neighborhood as Miss Bessie will no longer be sitting in her apartment window watching all the goings on all day. Don't worry, she did not pass away. Her number finally hit and in her words, "I'm finally getting away from you niggers."
Ms. Bessie was a lifetime resident of the Benning Heights area where she acted as a grandmother for many neighborhood children. Ms. Bessie only left her apartment about twice a day. Around 1:30 she would walk to the corner store to get her daily duece-duece of Private Stock and to play the DC Mid-Day Pick 4 before the 1:55 cut-off. She would usually make another trip back to the store around 6:30 to play her number again and get a pack of Pall Mall cigarettes so that she could make it back home in time for Wheel of Fortune.
Ms. Bessie raised three children practically alone. Her husband, Randall Wayne McBride didn't leave her though. As she puts it, "He was in the service and he never came back from Korea." She had two boys, Randall Jr. and Dante LeVay. Her only daughter was named Randetta Marie. Randall Jr. (RJ) is a night shift supervisor for the new Dunkin Donuts/Citgo Gas station on the corner of Benning Road and 44th St. and still lives in the little bedroom of his mother's apartment. Dante is serving 6-10 years in the penitentiary for his involvement in an illegal gorilla & catfish smuggling ring. Randetta has an apartment two floors up from her mother and she works at RFK Stadium during soccer season selling hot dogs and quesadillas to drunken Mexicans and El Salvadorans. Although she has been a widow for many years, Ms. Bessie is not a lonely woman. You can often see her creeping out of Deacon Clarence Brisker's apartment 1C on many a night.
Ms. Bessie is well respected in her neighborhood as the local thugs and mini-thugs know better than to curse in her presence. This didn't start out of respect though. One Saturday afternoon after a trip to the laundry mat and Zayre's, a neighborhood boy named Tre knowingly dropped the F-bomb right in front of Ms. Bessie. All of Tre's friends suddenly got real quiet and slowly stepped back. Before he knew it, Tre had been hit upside the head with a bottle of Clorox. "Don't you sass me boy, I can't wait to get away from you niggers." said Ms. Bessie and she continued to push her fold-up metal laundry basket up Benning Road. Although he was very dark-skinned, Tre's new nickname soon became "White Boy."
Ms. Bessie will surely be missed in the Benning Heights neighborhood. The neighborhood residents threw her a going away party and raised a banner that said, "Ms. Bessie: An OG (Original Grandma), We'll Miss You!" Ms. Bessie left them with the words, "I am so happy to finally get away from you niggers. Somebody give me a light."
"A New G.I.G."
by Reggie Dinkins, Jr.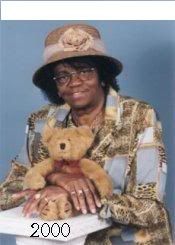 Many of us look for new gigs, and are in need of them, whether you need a change of scenery a new opportunity or a fresh start. Sometimes you just need to sit down before you get slapped in the mouth. Raycene Green is our newest inductee into the
"Grandma Is Gangsta Foundation".
She has been gangsta all her life, and is just now receiving the proper notariety for her years of gangstressness. Raycene, shown above is at her community service program at SHAME ON YOU of Greater St. Louis. Raycene has been in and out of SHAME ON YOU, "Saving Hard And Manish Evil Ornery Niggas Youth and Old folks of Urban areas", since she was a child.
She still carries beer in her purse, because "you never know when you need a pony or a broken bottle", and sometimes a spare piece of curb for security, Raycene does not play. Whether she is watching your kids or her own, you better not be manish or act grown, nothing you can say will justify getting hit in the head with rocks the size of hot fries.
Raycene has been known to punch any and all of her 5 children, and 13 grandchildren in the mouth eye and especially chest. "Granddaughters going through puberty who think they are so fresh need a lil Vicks on their chest", referring to her left-hand which is tatooed "Vicks" after her youngest sister Vickie aka Vicks who died when they were little girls. An advocate of tough love, she made sure all her kids got chicken pox at the same time, and pink eye at anytime, anytime they rolled their eyes at her she plucked whichever eye rolled first. Raycene keeps her brim low, and eyes up, a known crap-shooter but she don't take no crap, will put the big hand on you, but she gives no dap unless she is watching Falcons game then you might get a hand-slap.
SHAME ON YOU of Greater St. Louis is proud to recognize Raycene Green. A woman with a pistol in her purse with a giraffe-plated handle. A "GIG" through and through we commend this gangstress for all she has done seen and unseen, but always felt. SHAME ON YOU has been beating butts for years, and going to keep on doing it long as you keep on keeping on. Please check http://www.shameonyou.org/awards for future and past good job gangstas.