"CrimeWatchers"
by Reggie Dinkins, Jr.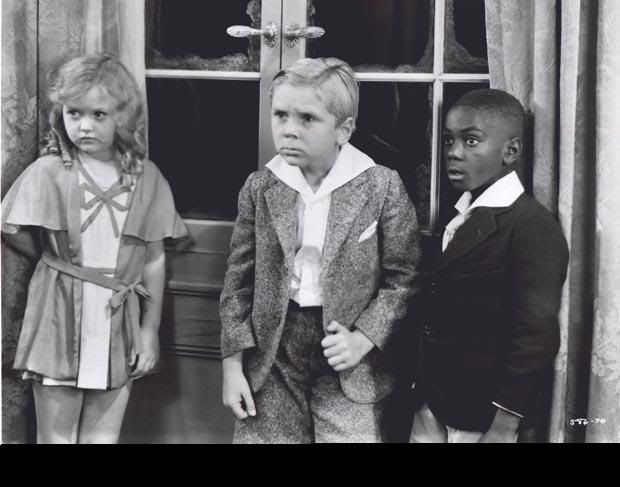 CrimeWatchers is proud to report that the infamous Black Twinkee Crime Family has been apprehended. Shown from left to right Cindy "Lollipop" Hansen, Timmy "Big Time" Timus, and Greg "G-Shock" Hamilton. The Black Twinkee Crime Family has terrorized many communities ever since they were 5 years old. Known as the Black Twinkee's because their only colored member G-Shock is the glue that holds them together.
The threesome has holding to the largest stolen mopad and Cadillac ring in lower Northwest DC. They also have been running numbers in San Fran, DC, Albuquerque Seattle, and Cleveland. An innocent looking group, excluding "Big Time" who has been known to scare minutes into seconds. The group was found in Oakland when "Big Time" was found soliciting pay-per-view slap boxing between drunk hookers in a brothel. The above picture was taken inside the Queen Jasmine's brothel when the Black Twinkee's were cornered by the feds.
The Black Twinkee's were quite the dangerous crew, Big Time is actually reaching for his dagger disguised as a PEZ dispenser. "G-Shock", nicknamed for his look of surprise, was quoted on the scene, "aww Big Time this is a tick of a time to be tocked, that pig sure got his glock cocked". Despite grumblings about the crew they never dealed drugs, nor killed anyone. Mr. Phyllis, the neighborhood queer of Stanton Terrace who likes crossdressing, survived that nasty trip-and-fall robbing, and near application of the death-touch by Big Time last winter. It is reported that the three will be tried all over the nation, but word has it they will be sentenced to five months in a maximum security daycare program in the basement of Marshall Taylor's house over on East 99 & St. Clair in Cleveland, OH.